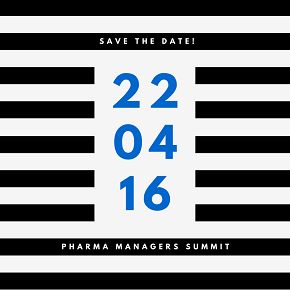 Save the date: 22 aprile 2016. Arrivano le conferenze virtuali dedicate al marketing farmaceutico. Tweet this
Le aziende farmaceutiche che vogliono guadagnare un vantaggio competitivo devono sviluppare costantemente nuove competenze. La più redditizia expertise dei prossimi anni sarà la capacità di padroneggiare un prezioso strumento di comunicazione medico scientifica: i convegni online, veri e propri eventi, che di virtuale non hanno niente tranne il fatto di svolgersi – concretamente – online.
Pharma Managers Summit
Per rispondere all'esigenza delle aziende di presenziare gli eventi più importanti nell'ambito del marketing farmaceutico, nasce Pharma Managers Summit: la nuovissima area responsive, interattiva e smart di Dottnet, in cui incontrare i protagonisti del Marketing farmaceutico e scoprire il loro punto di vista sui più interessanti aspetti del Multichannel.
Pharma Managers Summit ha raccolto le esperienze di manager del calibro di Maurizio Castorina (Amministratore Delegato Zambon spa), Luigi Capani (Customer Excellence Director, Roche spa) e Giuseppe Recchia (Direttore Medico, GSK Italia) e attraverso videointerviste esclusive – concepite per essere visualizzate su tutte le tipologie di dispositivi – ti offre l'opportunità di entrare in contatto con i più autorevoli rappresentanti dell'industria farmaceutica, con un semplice click.
Conferenze virtuali: l'ultima sfida del Pharma
Nel corso degli ultimi anni, molte delle più note Big Pharma hanno già mostrato un crescente interesse per le conferenze virtuali. Il motivo di tale interesse non risiede nell'innata fiducia del settore nell'innovazione – al contrario il Pharma risulta spesso radicato su posizione non sempre al passo con i tempi in ambito della comunicazione – bensì in molto concrete forze di mercato.
Len Starnes, nell'ottimo articolo Why Pharma Needs a Virtual Conferencing Roadmap, individua le 6 ragioni per cui le aziende farmaceutiche debbano, necessariamente, adottare le conferenze online quale nuovo sistema di comunicazione:
1) Le aziende farmaceutiche dispongono di bilanci minori;
2) I costi di organizzazione e gestione di eventi tradizionali sono diventati esorbitanti;
3) I medici hanno sviluppato nuovi comportamenti e inedite aspettative digitali;
4) Le modifiche normative incidono fortemente sulle conferenze scientifiche;
5) La tecnologia sempre più sofisticata consente una perfetta organizzazione di conferenze virtuali;
6) Il multichannel è un elemento sempre più rilevante nel marketing farmaceutico.
A tali ottime ragioni vanno aggiunte anche difficoltà di tipo logistico. Risulterebbe, infatti, altamente improbabile organizzare eventi cui fisicamente riuscirebbero a partecipare i più autorevoli manager del Pharma, i quali sono professionisti tanto qualificati, quanto impegnati in attività inderogabili.
Pharma Managers Summit rappresenta una occasione imperdibile di partecipare al più grande summit dedicato al marketing farmaceutico e - allo stesso tempo - di sperimentare l'efficacia e l'estrema praticità degli eventi virtuali. Dove vuoi e quando vuoi.
La digitalizzazione degli eventi rappresenterà inevitabilmente un nuovo standard all'interno dell'industria farmaceutica. Grazie ad ambienti interattivi analoghi a conferenze tradizionali, le industrie farmaceutiche più smart guadagneranno un vantaggio competitivo sui competitor ancora arroccati su posizioni quasi anacronistiche.
Pharma Managers Summit, dal 22 aprile, è già il presente.
Save the date!