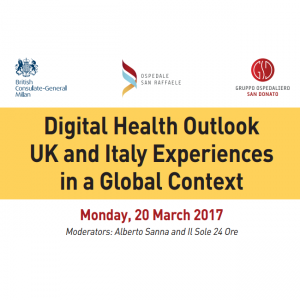 Il 20 marzo 2017 si terrà il convegno: Digital Health Outlook UK and Italy Experiences in a Global Context.
L'evento si svolgerà al San Raffaele Congress Centre, Aula Pinta, via Olgettina 58, Milano.
La partecipazione è gratuita, ma i posti sono limitati. Entro il 16 marzo puoi registrarti sul sito: www.achelois.eu.
L'iniziativa è organizzata dall'Italy Team del UK Science & Innovation Network del governo britannico – la cui missione è l'incremento di collaborazioni e scambi in tutti i settori dell'innovazione, della scienza e della tecnologia con effetti reciprocamente positivi per l'Italia e UK - in collaborazione con il Department for International Trade Italy, il Centro di ricerca e-Services for Life and Health dell'IRCCS Ospedale San Raffaele, BacktoWork24 e Frost & Sullivan.
Durante la mattinata, dedicata alla discussione e al confronto tra ricercatori, aziende e start up italiane e britanniche operanti in questo settore, si approfondiranno la realtà e l'attuale sviluppo della sanità digitale nei due Paesi.
Tecnologie sempre più innovative & Digital Health
Dispositivi e sensori accuratissimi per l'assistenza ed il monitoraggio biometrico 24/7, la possibilità per i pazienti di inviare i propri parametri vitali da casa, la creazione di piattaforme dedicate alla salute per educare le persone a stili di vita più sani, il ruolo dell'intelligenza artificiale nell'analisi dei big data per fornire informazioni personalizzate in tempo reale e definire percorsi di cura ottimali. Sono queste solo alcune delle novità che , rivoluzionando radicalmente le modalità di offerta e fruizione da parte di medici, operatori e pazienti
Tra i partecipanti si segnala la presenza di:
Jill Morris and Gianvito Martino, Scientific Director, Ospedale San Raffaele
Alberto Sanna, e-Services for Life & Health Director, Scientific Institute San Raffaele
Patty Kostkova, Principal Research Associate for E-Health, Department of Computer Science, University College London
Pauline Whelan, mHealth Applications Manager, The University of Manchester, Farr Institute
Gian Marco Rinaldi, Senior Associate, Bird&Bird
Dorman Followwill, Senior Partner, Transformational Health, Frost & Sullivan
Paolo De Santis, Head of Accident and Health Strategy&Development, Generali Group
Emanuele Donati, e-Commerce Solution Manager, Abbott Diabetes Care Italy
Yinka Makinde, Programme Director, DigitalHealth.London
Enrico Vanin, Chief Executive Officer, Aon S.p.A