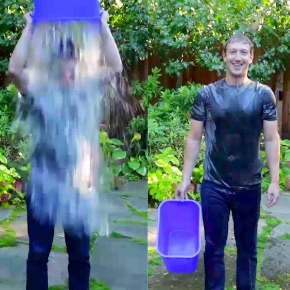 Il marketing farmaceutico accetta la sfida del non convenzionale. Tweet this
Al di là delle previsioni, dalla Ice Bucket Challenge emerge un dato molto chiaro: il marketing farmaceutico, per essere incisivo, deve sfruttare nuovi canali e – magari – aprirsi ad aspetti meno convenzionali.
Ogni estate è caratterizzata da un tormentone, una canzone, una moda, ma – nella norma – niente di tutto ciò lascia un segno duraturo. La stagione che ormai volge al termine, invece, è riuscita a trasformare una sfida per una giusta causa in un trend che non smette ancora di esaurirsi: l'Ice Bucket Challenge, la sfida del secchiello ghiacciato, lanciata per raccogliere fondi per combattere la SLA – in tempi brevissimi – è riuscita a raccogliere oltre 100 milioni dollari.
Le regole sono semplici: chi viene nominato ha la possibilità di accettare la sfida oppure rinunciare. Chi accetta, entro 24 ore, deve rovesciarsi sulla testa un secchio pieno di cubetti di ghiaccio, mentre chi rifiuta deve fare una donazione all'associazione.
La sfida è diventata immediatamente virale, anche grazie alla partecipazione di personaggi notissimi. I social network sono (stati) letteralmente invasi da video, immagini – e una valanga di commenti – che immortalano Obama, Anne Wintour, Mark Zuckerberg, Bill Gates, Lady Gaga, Donatella Versace, ma anche i nostri Matteo Renzi e Adriano Celentano, nell'atto di versarsi l'acqua ghiacciata in testa.
Per avere una percezione della vastità del fenomeno basta cercare l' Hashtag #IceBucketChallenge in un qualsiasi social network. Twitter, ancora una volta, con i suoi 140 caratteri – e adesso con la possibilità di condividere video – si conferma il luogo d'elezione per accogliere opinioni immediate.
Twitter Reverb, un tool di Twitter che analizza i topic più popolari del social network, mostra come si sia passati dai 77 tweet al minuto del 29 luglio ai 174 tweet dell'8 agosto, quando Ansel Elgort ha tweetato la sua sfida. Dopo di lui le celeb sono state liete di accettare la sfida e hanno postato i video dei loro Ice Bucket Challenge sui social, ma hanno anche donato soldi.
Il loro esempio è stato seguito da tantissime persone comuni. Ecco il link per donare.
Il fenomeno non è passato certo inosservato anche fuori dall'ambito social, tanto che Forbes - nell'articolo Has The Ice Bucket Challenge Changed Healthcare Fundraising Forever? - si chiede già se:
«Decolleranno altre sfide, che modificheranno per sempre le modalità di raccolta di fondi per la sanità? Oppure l'Ice Bucket Challenge è stato un isolato episodio di successo?».
La domanda, mai come in questo caso, vale letteralmente milioni di dollari.
Le risposte – si sa – quando ci sono in ballo tanti interessi, sono spesso discordanti.
Secondo Doug White, direttore del Master of Science in Fundraising Management presso la Columbia University, il successo dell'Ice Bucket Challenge sarebbe una casualità virale e che, in quanto tale, non dovrebbe essere replicato da altri enti di beneficenza. White ritiene che il successo della sfida del secchiello ghiacciato risieda tutto nella novità.
Elisabeth Nakielny, COO di Bravelets, invece, è del parere contrario e – a sostenere la sua opinione – riporta il No Makeup Selfie for Cancer Awareness, la campagna con cui a marzo sono stati raccolti in Inghilterra circa 8 milioni di sterline in sei giorni per la ricerca contro il cancro.
Un parere molto interessante sul fenomeno – seppure dal sapore, forse, politacally incorrect – lo esprime Massimo Sandal in Ice Bucket Challenge, qualche considerazione cinica, ma doverosa, dove riflette sul rapporto tra donazioni e mortalità delle malattie:
«Apparentemente qualcosa non va: il tumore al seno è al quarto posto, ma di gran lunga primo nelle donazioni. Viceversa le malattie cardiache rappresentano la stragrande maggioranza delle morti, eppure sono solo terzi per donazioni. La SLA è quarta per donazioni, grazie alle secchiate d'acqua gelata, ma in fondo al numero di morti. A vederla così, non stiamo investendo i nostri soldi nel modo più ragionevole».
Al di là delle previsioni, che trovano sempre il tempo che trovano, dalla Ice Bucket Challenge emerge un dato molto chiaro: il marketing farmaceutico, per essere incisivo, deve sfruttare nuovi canali e – magari – aprirsi ad aspetti meno convenzionali.
In fondo, pecunia non olet!