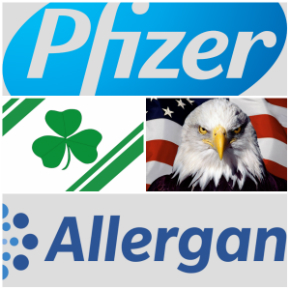 Ancora fusioni nel Pharma: Pfizer ha intenzione di acquisire l'irlandese Allergan. Tweet this
La fusione tra Pfizer e Allergan darebbe via a «un colosso farmaceutico con una capitalizzazione di mercato da 300 miliardi di dollari», come si può leggere nell'articolo pubblicato in DottNet, Pfizer tentata dal Botox: tratta la fusione con Allergan.
Pfizer-Allergan
Le due aziende , insieme, diventerebbero così la più grande società farmaceutica al mondo, sottraendo il primato a Johnson & Johnson.
La notizia è stata confermata in una nota di Allergan, in cui si chiarisce che sia stata Pfizer ad avviare le operazioni di negoziazione per acquisire l'azienda irlandese. Allergan ha reso noto che la transazione per una «potenziale combinazione delle attività» rappresenta solo una «amichevole discussione preliminare». Infine, da Dublino hanno ribadito che non è stato ancora raggiunto alcun accordo.
Poco dopo, una nota di Pfizer ha confermato la possibilità di una transazione tra le due aziende farmaceutiche, rimarcando che l'accordo sia ancora in una fase embrionale, tanto da ripetere l'espressione usata da Allergan di «amichevole discussione preliminare».
Fusioni nel Pharma
Lo scorso anno Pfizer aveva tentato di acquistare AstraZeneca, ma senza successo. L'intesa avrebbe permesso a Pfizer di spostare la propria sede dagli Stati Uniti in Europa, consentendo – così – al colosso americano di pagare meno tasse.
Il tentativo di fusione di aziende farmaceutiche americane con società europee è stata una tendenza molto diffusa del 2015, tanto che il governa USA ha preso seri provvedimenti per impedire la fuga oltreoceano delle aziende (e dei loro capitali), fenomeno che puoi approfondire cliccando qui.
La fusione con Allergan, quindi, se dovesse concretizzarsi, consentirebbe a Pfizer di ridurre l'ammontare delle aliquote fiscali. In Irlanda, infatti, dove Allergan ha sede il produttore è tenuto a versare un'aliquota del 4,8%, contro il 25,% dovuto negli Stati Uniti.
L'accordo Pfizer-Allergan riattizzerà le polemiche negli USA?
Pfizer riuscirà ad approdare in Europa?
Nel frattempo, Allergan conferma il proprio intento di cedere l'intero portfolio dei generici a Teva entro il primo trimestre del 2016.
To be continued.