[bctt tweet="Diabete e Obesità: sensibilizzazione sulle Malattie del Benessere" username="Merqurio"]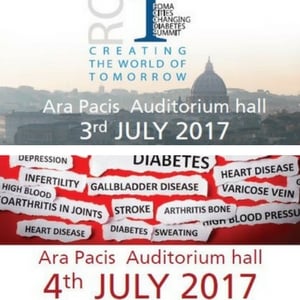 Le cosiddette "malattie del benessere", diabete e obesità, saranno protagoniste di due importanti eventi presso l'Auditorium Ara Pacis di Roma:
- Lunedì 3 Luglio dalle ore 14:30 alle 20:00 il 2nd Health City Forum – 1st Roma Cities Changing Diabetes Summit – Creating the world of tomorrow
- Martedì 4 Luglio dalle ore 9:00 alle 15:30 10th Italian Barometer Diabetes & Obesity Forum.
Entrambi gli eventi sono promossi dall'Italian Barometer Diabetes Observatory (IBDO) Foundation, dall'Università degli Studi di Roma "Tor Vergata" e dall'Health City Institute,
con il patrocinio della Presidenza del Consiglio dei Ministri, della Conferenza delle Regioni e delle Province Autonome, dell'Associazione Nazionale Comuni Italiani (ANCI) e di Roma Capitale, in collaborazione con il programma Cities Changing Diabetes promosso da University College London (UCL) e il danese Steno Diabetes Center.
Sensibilizzazione sulle Malattie del Benessere
L'iniziativa mira a mettere in risalto la correlazione tra l'aumento della popolazione che vive in città, e l'aumento di pazienti affetti dalle "malattie del benessere".
Ciò sarebbe riconducibile allo stile di vita che sostiene chi lavora e vive secondo i ritmi frenetici della metropoli.
L'emergenza Urban Diabetes è testimoniata dagli oltre 415 milioni di casi di persone che convivono col diabete. Il fatto che due terzi di questi risiedano in città aumenta l'emergenza di sensibilizzare sul tema sia i cittadini che le Istituzioni e le Amministrazioni Locali.
Attraverso la sensibilizzazione si possono, infatti, stimolare le istituzioni a implementare politiche che rendano le città un ambiente di salute.
Con lo stesso scopo è possibile coinvolgere il pubblico alla ricerca di strumenti che possano rendere l'ambiente urbano più sostenibile.
Al Forum saranno presenti istituzioni italiane, esponenti politici, rappresentanti del mondo accademico e associazioni di pazienti, al fine di analizzare le diverse iniziative volte ad affrontare la pandemia di diabete e obesità sotto diversi punti di vista: medico, urbanistico, logistico.
Per maggiori informazioni, è possibile visualizzare i programmi completi dei due eventi (3 Luglio e 4 Luglio).