[bctt tweet="#MakeToCare: l'innovazione hi-tech abbatte le disabilità" username="Merqurio"]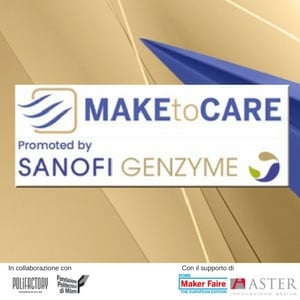 Make To Care è il nome del contest promosso da Sanofi Genzyme – divisione di Sanofi specializzata nelle malattie rare, sclerosi multipla, oncologia e immunologia – indetto per celebrare chi ha saputo investire il proprio ingegno in progetti hi-tech che soddisfano un bisogno reale e concreto dei pazienti affetti da qualsiasi tipo di disabilità.
Per il contest è stato firmato un protocollo di collaborazione tra Sanofi Genzyme e la Fondazione Politecnico di Milano, con Polifactory come parter di supporto tecnico scientifico, e con il supporto di Rome Maker Faire- European Edition 2017 e Aster.
Make To Care: l'innovazione al servizio di una vita migliore
Make To Care è stato realizzato al fine di incentivare non solo l'innovazione, ma anche per valorizzare le capacità di coloro che sono in grado di soddisfare i bisogni inespressi delle persone affette da ogni tipo di disabilità.
I progetti devono avere come obiettivo quello di migliorare la qualità della vita delle persone, affette da particolari patologie e/o vittime di eventi traumatici, e/o dei loro caregiver.
Chi può partecipare?
Il contest si rivolge alla comunità dei maker - e cioè persone che, indipendentemente dalla loro professione, orientano il proprio ingegno verso soluzioni innovative relative a bisogni concreti e ancora insoddisfatti - e a tutte le altre persone (fisiche, giuridiche, organizzazioni/enti, ecc.), purché condividano la medesima filosofia dei maker.
Il termine ultimo di partecipazione è fissato al 15 Settembre.
I progetti possono riguardare innovazioni già esistenti in altri settori oppure introdurre una tecnologia del tutto nuova, purché rispettino due prerequisiti:
sono effettivamente realizzabili;
migliorano concretamente la qualità della vita delle persone.
I progetti saranno valutati da un Comitato di Valutazione, la cui Presidenza spetta al Prof. Giuseppe Novelli - Rettore dell'Università degli Studi di Roma Tor Vergata - che dovrà nominare gli altri 8 membri del Comitato entro e non oltre il mese di Settembre.
Il 29 Novembre si terrà un evento, durante il quale ciascun finalista potrà esporre il proprio progetto, e saranno eletti i vincitori.
I Finalisti saranno poi invitati di diritto ad esporre i loro progetti in occasione della Maker Faire Rome 2017 (dall'1 al 3 Dicembre 2017) e ammessi alla seconda fase, ovvero la valutazione conclusiva da parte del Comitato di Valutazione.
Make To Care: i principi di valutazione di un progetto vincente
Ecco di seguito i parametri di valutazione dei progetti espressi nel Regolamento:
• Capacità di rispondere a bisogni non ancora soddisfatti;
• Grado di miglioramento incrementale atteso della qualità della vita dei pazienti e/o loro familiari;
• Innovatività e originalità dell'approccio;
• Grado di maturità dell'idea rispetto alla probabilità per la stessa di tradursi in realtà concreta, effettivamente a disposizione dei pazienti (es idea, prototipo, prodotto);
• Scalabilità, ovvero la possibilità di utilizzo da parte anche di altri pazienti, diversi ed ulteriori rispetto alle categorie di pazienti per i quali l'idea è stata originariamente concepita;
• Coinvolgimento diretto dei pazienti e/o loro associazioni nella condivisione del bisogno, messa a punto della soluzione e nella verifica di applicabilità (se fattibile).
Questa iniziativa è un grande passo in termini di centralizzazione del Paziente: l'interpretazione dei suoi bisogni, la qualità della vita, e l'ottimizzazione delle condizioni del suo caregiver diventano un'esigenza da soddisfare - e soddisfacibile - grazie a ciò che il cervello umano, combinandosi con le tecnologie, riesce a fare.
Questi progetti non faranno miracoli, ma qualcosa di molto simile sì.
Per maggiori informazioni, consulta il Regolamento del Contest oppure la Guida alla Candidatura.