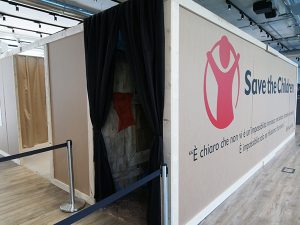 155 milioni di bambini soffrono la fame nel mondo, tutti con meno di 5 anni.
Un dato, finché resta per iscritto, che nonostante la sua gravità non riesce pienamente a coinvolgere chi legge nella sua oggettiva incredulità.
Save The Children, in collaborazione con Microsoft, ha "portato" a Milano - alla Microsoft House - la vita quotidiana di questi bambini, per far toccare la malnutrizione con mano a chi - nonostante la buona volontà - non riesce a pieno a comprendere la gravità di questi numeri.
Save The Children e Microsoft: un viaggio nella malnutrizione
Le associazioni sempre più spesso per generare empatia nel destinatario di un messaggio, comunicano attraverso immagini forti, in grado di suscitare emozioni che riescano quantomeno a dare un'idea chiara di che cosa accade dall'altra parte del mondo. Ma questo risulta, invece, un chiaro esempio di come certe iniziative - combinate con le nuove tecnologie - possano dare vita a risultati mai conseguiti prima (per lo meno sul versante della trasmissione di un messaggio).
La chiave dell'iniziativa di Save The Children è il visore di realtà mista di Microsoft Hololens, attraverso cui sono stati articolati tre scenari di vita quotidiana di questi bambini, che penetrano completamente i sensi di chi intraprende il percorso.
Vedere certe cose, e sentire certi suoni, genera un'indiscutibile comprensione di quanto Save The Children provi - da tempo - a far "sentire".
Case inabitabili, viali sporchi, rumori sordi di bombe, zone aride e carcasse di animali morti: come ci si sente di fronte a tutto questo, catapultati dal confortevole mondo occidentale?
L'esposizione, aperta al pubblico fino al 17 ottobre 2017, fa parte della campagna "Fino all'ultimo bambino", con cui Save The Children si propone di dare un futuro ai bambini che vivono quotidianamente l'orrore oggetto della mostra.
Sarà stato abbastanza coinvolgente calpestare terreni aridi, storditi dalle bombe, passeggiando tra un topo e l'altro?
La realtà in questo caso ha superato di gran lunga la fantasia.