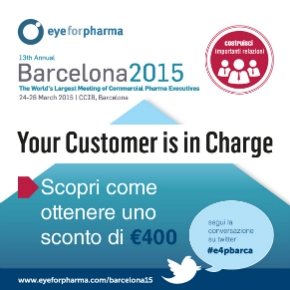 Un approccio paziente centrico è il nuovo obiettivo del marketing farmaceutico. Tweet this
Dal 24 al 26 marzo 2015 si tiene a Barcellona la 13a edizione de Eyeforpharma Barcelona Summit - The World's Largest Meeting of Commercial Pharma Executives, l'evento curato da eyeforpharma, in cui si danno appuntamento gli opinion leader mondiali del marketing farmaceutico.
Gli utenti di merqurio.it ricevono uno sconto immediato di €400 sull'iscrizione al convegno.
13th Annual Eyeforpharma Barcelona Summit
L'edizione di questo anno è dedicata alla tendenza più attuale del pharma marketing: un approccio paziente centrico. In particolare, l'agenda del convegno si focalizza su 4 aree:
- Multichannel Marketing
- Sales Excellence
- Patient Engagement
- Key Account Management.
L'Eyeforpharma Barcelona Summit, inoltre, non intende trascurare i temi dell'innovazione e della tecnologia, che si confermano elementi peculiari del mercato farmaceutico.
Obiettivi
Durante i tre giorni del convegno, i partecipanti avranno la possibilità di comprendere l'importanza di un approccio paziente centrico e - attraverso case history e l'esperienza diretta degli opinion leader del pharma - apprenderanno come imprimere alla propria azienda una strategia orientata ai bisogni del cliente. Il convegno - inoltre - è un'imperdibile occasione di fare networking con gli esponenti di rilievo del marketing farmaceutico.
L'evento organizzato da Eyeforpharma consente ai manager di essere i veri responsabili del cambiamento necessario a trasformare le aziende farmaceutiche in realtà al passo con le ultime tendenze del marketing, che vedono il consumatore - in questo caso il paziente - al centro di ogni azione.
Se sei interessato a capire i trend del pharma marketing, non perdere l'occasione di partecipare al 13th Annual Eyeforpharma Barcelona Summit.
Per godere dell'esclusivo sconto di €400, o per richiedere ulteriori info, compila il form sottostante:
[contact-form to='oberto.mandia@merqurio.it' subject='Eyeforpharma Barcelona Summit'][contact-field label='Nome' type='name' required='1'/][contact-field label='E-mail' type='email' required='1'/][contact-field label='Telefono' type='url' required='1'/][contact-field label='Messaggio' type='textarea'/][/contact-form]