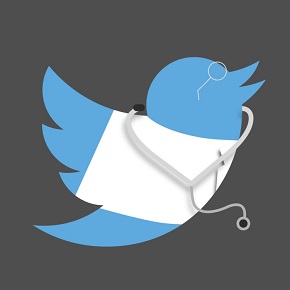 Nell'era dei social media, Twitter potrebbe rappresentare un nuovo strumento di reclutamento dei pazienti. Tweet this
Il recente studio, Cancer Communication in the Social Media Age, analizza l'efficacia di Twitter come innovativo mezzo di comunicazione per promuovere il reclutamento dei pazienti negli studi clinici. Lo studio di Mina Samir Sedrak, Roger B. Cohen, Raina M. Merchant, Marilyn M. Schapira, in particolare, focalizza la propria attenzione sul cancro al polmone.
Di seguito riportiamo una traduzione dell'abstract dell'articolo.
La comunicazione del cancro nell'era dei social media
Background
Twitter, un social network, sta trasformando la comunicazione. L'effettivo uso di Twitter potrebbe rappresentare un modo di comunicare al pubblico gli studi clinici e accrescere la conoscenza e forse il reclutamento. Abbiamo condotto un'analisi contenutistica dei tweet sul cancro al polmone, che trattassero discussioni specifiche su studi clinici sul cancro ai polmoni e abbiamo cercato quelli che contenessero link a studi clinici.
Metodi
Abbiamo usato Twitter search engine per identificare un gruppo di 26.050 tweet con la parola chiave "lung cancer" dal 5 al 21 gennaio 2015. I tweet sono stati catturati e preparati con Nvivo, un software per l'analisi qualitativa dei dati. I duplicati e i tweet non in lingua inglese sono stati esclusi. Dei restanti 15.346 tweet unici, 1.516 (10%) sono stati selezionati in modo casuale per una dettagliata analisi dei contenuti (kappa = 0,71). I tweet connessi a studi clinici hanno subito ulteriori analisi per categorizzare il tipo di studio e il link incorporato.
Risultati
La maggioranza dei tweet (83%) del nostro campione contiene contenuti specifici sul cancro al polmoni e il 17% è classificato come vario (p. es. contenuto estraneo o non logico).
La tavola 1 mostra la distribuzione delle categorie contenutistiche del cancro al polmone in relazione alla frequenza dei tweet. La maggioranza dei tweet si focalizza sul supporto o la prevenzione. Tra i tweet in relazione al cancro al polmone, il 18% è connesso a studi clinici. Dei tweet con studi clinici, l'83% concerne studi terapeutici, il 13% non terapeutici e il 4% ricerche di base. Tra i tweet con studi clinici terapeutici, il 79% concerne l'immunoterapie e 86% ha link che puntano a nuovi articoli. Solo 1 tweet punta a un sito di reclutamento pazienti.
Conclusioni
Una significativa percentuale di tweet sul cancro al polmoni è relative a studi clinici, ma virtualmente nessun tweet spinge i pazienti a siti di arruolamento. Twitter è un nuovo mezzo di comunicazione e ulteriori ricerche sono necessarie per testare il suo potenziale nel promuovere il reclutamento negli studi clinici.
Se vuoi avere un'idea più precisa del potenziale di Twitter in ambito medico scientifico, non perdere l'articolo 18 must-follow Twitter account about Health and Medicine.