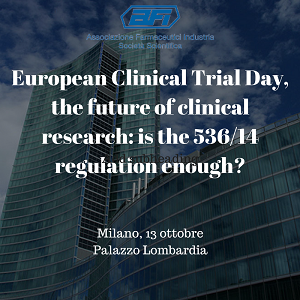 Il 13 ottobre 2017 si terrà a Palazzo Lombardia, dalle 9:00 alle 16:30 presso l'Auditorium Giovanni Testori, la conferenza internazionale "European Clinical Trial Day, the future of clinical research: is the 536/14 regulation enough?".
L'evento, organizzato da AFI (Associazione Farmaceutici Industria Società Scientifica) in collaborazione con Regione Lombardia, vedrà qualificati relatori internazionali confrontarsi sulle prospettive evolutive della ricerca clinica nello scenario di riferimento attuale.
Il Regolamento comunitario 536/2014
Il dibattito mirerà in particolare ad analizzare le ricadute nei differenti contesti nazionali dell'applicazione del Regolamento comunitario 536/2014, per comprendere come questo strumento normativo potrà agire nel settore come fattore di incremento della competitività a livello europeo.
L'evento si terrà in lingua inglese con traduzione simultanea.
In questo contesto il gruppo sperimentazioni cliniche di AFI e Regione Lombardia organizzano un convegno per far interagire le parti interessate (istituzioni italiane ed europee, Comitati Etici, sperimentatori e personale dei centri, pazienti, industrie e CRO) al fine di discutere dei punti che servono per incrementare la quota di sperimentazioni cliniche e poter mostrare la capacità attrattiva di questo settore a livello internazionale europeo nei confronti di promotori di sperimentazioni provenienti da tutto il mondo, anche in vista del nuovo Regolamento Europeo.
Clicca qui, per il programma completo.