[bctt tweet="C'era una volta un campione, anzi, IL CAMPIONE. " username="Merqurio"]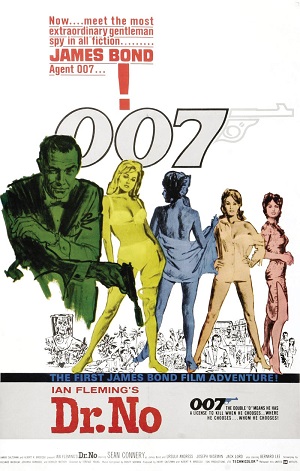 Non c'è dubbio che, tra tutte le leve di marketing farmaceutico, la consegna di saggi ai medici, ed in particolare agli MMG, sia sempre stata tra le più efficaci in quanto a impatto sulle vendite.
Nel 2011 un report elaborato da Cutting Edge Information sulla base di una ricerca condotta presso i Marketing Executives delle principali aziende farmaceutiche americane (Pharmaceutical Brand Lift - Marketing ROI and Budget Allocation) confrontava il ROI delle varie attività (vedi figura 1).
Purtroppo campionare è costoso, soprattutto per i farmaci Etici, SOP ed OTC dove, oltre al costo del sample, è necessario l'intervento dell'ISF.
Per questo motivo l'utilizzo di questa leva di marketing sta scemando sempre più, come testimonia il 97% degli MMG recentemente intervistati da Merqurio in una Survey online su 300 MMG panel DottNet.
3 buoni motivi per consegnare campioni OTC
Eppure ci sono 3 buoni motivi, soprattutto per le aziende OTC/SOP italiane, per considerare l'opportunità (qualora non l'avessero mai fatto) di comunicare con gli MMG tramite la consegna saggi.
#1 I pazienti ricercano supporto e consigli per la scelta di prodotti OTC
Secondo un'indagine condotta da Pfizer USA su un panel di 2.024 pazienti, il 38% degli intervistati ha affermato di non sentirsi sereno nella scelta di un farmaco OTC senza il supporto di un esperto. Infatti più della metà ha poi confermato di aver fatto ricorso, prima dell'acquisto, al consiglio di un medico.
Pensando al mercato italiano, dove il processo di comunicazione verso il consumatore OTC è certamente più normato di quello americano, mi viene da pensare che l'autonomia decisionale dei pazienti sia ancora più bassa, con un conseguente affidamento al MMG più elevato rispetto alle esperienze oltreoceano.
#2 Gli MMG sono sempre più coinvolti nella prescrizione di farmaci OTC
Un'indagine di GFK Eurisko del 2013 (Il ruolo dei farmaci di automedicazione nella pratica clinica dell'MMG) supporta questa tesi. I Key Finding dello studio riportano che:
- Fatto 100 il totale delle prescrizioni/consigli effettuati, il 24% riguarda farmaci senza obbligo di ricetta
- Mediamente, in un mese tipo, raccomandano/consigliano 105 farmaci OTC/SOP
- Le principali aree terapeutiche dove sono coinvolti sono:
Stanchezza/affaticamento fisico-mentale (79%)
Disturbi intestinali (78%)
Influenza/febbre (73%)
Disturbi venosi (74%)
Tosse (70%)
Raffreddore (73%)
- Tra gli aspetti che potrebbero favorire l'MMG a consigliare farmaci OTC, il principale (62% dei rispondenti) è: maggiore comunicazione medico scientifica.
Su quest'ultimo punto si inserisce l'approfondimento che Merqurio ha sviluppato sul tema dell'utilità del campionamento presso gli MMG.
Dall'ultima survey online su 300 MMG emerge che:
- Il 70% ritiene in generale molto utile per lo svolgimento della propria attività professionale ricevere saggi di prodotti. In particolare quasi il 60% richiede campioni OTC/SOP
- Perché? I principali 5 motivi di apprezzamento sono:
Ricordo del prodotto (28%)
Inizio terapia (22%)
Testare personalmente l'efficacia (11%)
Testare la compliance del paziente (10%)
Dimostrazione ai pazienti (10%).
#3 Il costo non è più un problema
Rispetto al passato, il costo per le aziende OTC/SOP per comunicare e campionare gli MMG si è notevolmente abbattuto.
Innanzitutto l'attività per generare una Share of Voice significativa su questo target richiede "uno sforzo muscolare" minore rispetto agli anni scorsi, quando le Big Pharma dell'etico bombardavano l'MMG con visite degli ISF, saggi di prodotto e servizi vari.
La forte contrazione delle Reti di vendita ed i crescenti limiti all'accesso posti dagli stessi medici di base ha cambiato notevolmente la modalità di svolgere l'informazione scientifica, ed oggi occorrono molte meno visite per essere ricordati.
In secondo luogo, l'esplosione della Non Personal Promotion, basata in primis sull'utilizzo di canali innovativi come eRep ed eDetailing, permette oggi l'effettuazione di campagne promozionali sull'MMG a costi estremamente competitivi.
È possibile, quindi, creare dei portali di servizio per il medico di base, con contenuti informativi sui prodotti abbinati a servizi come la richiesta di campioni, integrati con l'attività di una CSO sul campo per consegnare i saggi e fare presidio sulle farmacie adiacenti agli ambulatori.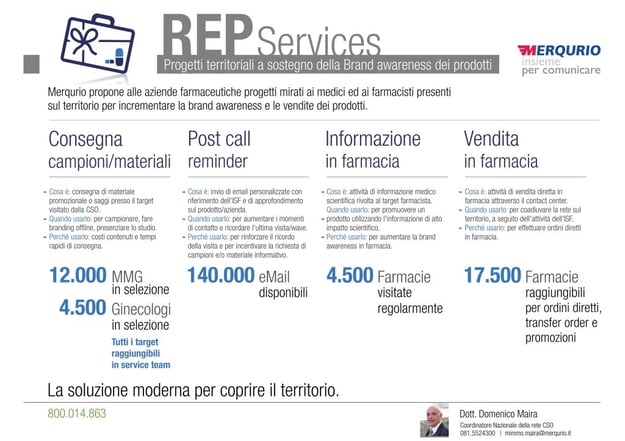 La stagione invernale è alle porte; quale migliore occasione, quindi, per le aziende OTC di sfruttare la leva del campionamento?
Per scoprire la soluzione più efficace, riempi il modulo sottostante
[contact-form to='oberto.mandia@merqurio.it' subject='RepService'][contact-field label='Nome' type='name' required='1'/][contact-field label='E-mail' type='email' required='1'/][contact-field label='Telefono' type='name'/][contact-field label='Richiesta Info' type='textarea' required='1'/][/contact-form]