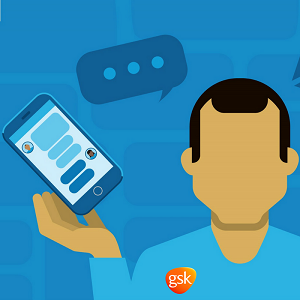 GSK lancia Click to chat, la prima chat sui vaccini dedicata a cittadini e HCP. Tweet this
I cittadini diventano ogni giorno più esigenti sui prodotti della salute.
I vaccini – "la tecnologia sanitaria più sicura che l'uomo abbia mai concepito" come sostiene Walter Ricciardi, Presidente Istituto Superiore di Sanità dichiara – proprio a causa del ruolo centrale che assumono nell'ambito della prevenzione, sono oggetto di numerosi quesiti da parte di operatori sanitari e cittadini.
GSK, azienda leader nel settore dei vaccini, ha compreso l'importanza di offrire una esperienza altamente customizzabile a chi sia in cerca di informazioni sui propri prodotti.
Da tale convinzione nasce Click to Chat, un innovativo canale interattivo per informare tempestivamente sui vaccini GSK.
Il servizio di chat rappresenta la via più rapida e diretta per dialogare con un esperto di Medical Information di GSK, la struttura altamente qualificata che si occupa di fornire informazioni in risposta a quesiti non sollecitati.
Attraverso la pratica chat, gli operatori sanitari potranno richiedere utili delucidazioni sui vaccini GSK, come ad esempio chiarimenti sulle schedule e sulle possibilità di co-somministrazioni; mentre i cittadini potranno ricevere chiarimenti sul Foglio Illustrativo, anche guidati dalla visualizzazione delle varie sezioni del foglio stesso, attraverso la condivisione dello schermo.
Come funziona Click to Chat
Dal lunedì al venerdì, dalle 9:00 alle 18:00, i cittadini e gli operatori sanitari possono accedere alla chat dal sito www.gsk.it, cliccando su "Contatti".
In pratica, l'utente – cittadino o HCP – oltre a raggiungere la Medical Information attraverso il numero telefonico 0459218877 e l'indirizzo di posta elettronica medicalinformation@gsk.com, potrà contattare gli esperti anche con Click to Chat.
Click to Chat rappresenta un prezioso supporto anche per il medico, il quale potrà indirizzare i propri assistiti all'utilizzo del servizio per ottenere informazioni immediate relative a impiego, posologia, efficacia, sicurezza e conservazione dei vaccini GSK.
Gli operatori sanitari potranno, inoltre, accedere al servizio di chat con la Medical Information anche dalla homepage del sito www.edott.it, cliccando in alto a destra sulla voce arancione "Click to Chat".