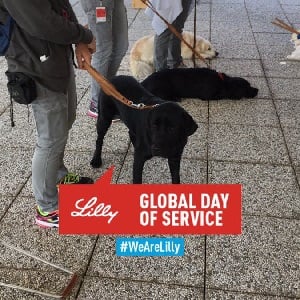 Le aziende farmaceutiche, con la ricerca di nuovi farmaci, si impegnano a migliorare la qualità della vita delle persone. I soli farmaci – si sa – non bastano a rendere migliori i luoghi in cui viviamo e il volontariato, spesso, riesce a fare molto. È esattamente con questo spirito che, da 10 anni, Lilly porta avanti il Lilly Global Day of Service, un progetto globale di volontariato, che dal 2007 ha offerto alle comunità quasi 1 milione di ore di volontariato.
Lilly Global Day of Service 2017
Il 28 settembre, oltre 24.000 dipendenti di circa 65 paesi, invece di lavorare in ufficio, hanno partecipato a concrete iniziative per rispondere ai bisogni sociali della loro comunità, totalizzando 100.000 ore di servizio.
Anche nel nostro Paese Lilly Italia e la divisione veterinaria Elanco hanno elargito donazioni e una serie d'iniziative in collaborazione con organizzazioni no profit regionali per dare il proprio contributo in Toscana.
Come segno concreto di vicinanza e radicamento nella realtà toscana, Lilly Italia ha offerto il proprio contributo, donando le ore di lavoro di 100 dipendenti che hanno trascorso la giornata facendo volontariato presso Dynamo Camp, presso la Mensa Caritas Firenze, presso il Banco Alimentare, presso il Canile di Ugnano e con una collaborazione con la Scuola Nazionale Cani Guida per ciechi.
«Non si tratta solo del Global Day of Service di Lilly – ha spiegato Ilya Yuffa, Presidente e AD della Lilly Italia – è piuttosto un impegno congiunto e continuo di centinaia di organizzazioni e di cittadini che lavorano insieme per migliorare le comunità in cui vivono, essendo orgogliosi di farlo».