Pharma Multichannel in Italy? Let's start with the basics
Let's start with the basics: pharma multichannel has no unambiguous definition, it is true. But it is also true that it can be no more than a marketing communication model that uses a plurality of channels in an effective and synchronous way based on the needs or tastes of the consumer.
So if you want to look at it from the industry side, it's the way to communicate your product in the best way possible, declining the key message on the channels so that we have more impact and you sell more.

If you want to look at it from the customer side we can say it's the least annoying way to get quite useful information from pharmaceutical companies about things that should be of some interest to you.

Now from these brief definitions it is quite clear that to activate a good Pharma Multichannel in Italy, without wanting to exaggerate too much in technicalities, it is necessary to understand the needs and behaviours of my potential consumer in order to direct the right messages to the right targets.

Knowledge is therefore the key to good communication.
If you let me get through this one, I could say that to impress a person it would be good to know their habits and interests, so that I could relate in the best way. This is the first point of Pharma Multichannel in Italy.

Know your audience. Here I challenge anyone to beat Facebook.
The impressive sequence I discover every time I consult the Facebook page showing my interests not only surprises me, but I sometimes have the well-founded fear that Facebook knows me more than I think I know myself.

This can happen because obviously a consumer's profile is detectable by his or her choices.

We at Merqurio have another method. Based simply on online behaviour + direct questions. We are then able to connect, thanks to DrClick's unique key systems, the online database doctors with offline data to derive information about interest and behaviour.

These maps of doctors are invaluable, because they allow you to know not only the obvious specialisations, but above all who to address so that your message reaches its destination. So nowadays you don't need to buy a database of medical specialists if you are not sure that they are the right ones.

You want diabetologists? That will be difficult if you don't have a map of the right doctors. Do you want hepatologists? It will be difficult if you only have a list of gastroenterologists.

What we do every day is to work out our own knowledge process, based on interaction with others. There are those who do it more and those who do it less, but those who have to impress, those who have to sell, those who are pharmaceutical sales representatives, those who have strong relationships with others for professional reasons must develop a strong sense for understanding the interlocutor. On the information he or she is able to grasp, he or she will say the right words and have the right attitudes to succeed, and therefore sell more.

Intercept the potentially interested person, engage them and lead them to the purchase with the right words. This is the basis of Pharma Multichannel in Italy.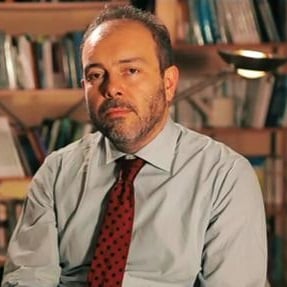 Salvatore Ruggiero nasce a Napoli nel 1964, si definisce un imprenditore seriale. Oggi a capo del gruppo Merqurio, di cui è stato anche fondatore. Sposato con Giuseppina, ha due figli e nel tempo libero, tra un'escursione e un'altra, tra un film ed un altro, è alla ricerca della ricetta dei biscotti perfetti.