Reshaping Pharmaceutical Marketing: The Leopard and Pharmaceutical Congresses
'If we want everything to remain as it is, everything must change'. Says Tancredi to the Prince of Salina in The Leopard. Is this really the case? After the binge of digital conferences and webinars with content visible in 3D as on the Playstation, today it seems that the tendency is to return to the past at the risk of removing all the good things we have learnt from the virtual experience. Let's hope not.

The lesson we have been taught in these two years of pandemic is that the doctor wants to receive pharmaceutical sales representative in Italy at a time that suits him and exclusively on content that interests him, while the pharmaceutical sales rep provided by companies is still too much of a push type, with 'Interruption Marketing' effects and erosion of the trust relationship with the interlocutor. Len Starnes, world-renowned pharmaceutical digital marketing guru, offered a series of insights and provocations during a webinar on the subject of the company-physician disconnect, confirming that only by interpreting the true needs of clinicians is it possible to develop effective communication strategies that are aligned with their spending capabilities, which are unfortunately becoming increasingly scarce. Len Starnes stated: 'If we want everything to stay as it is, everything has to change'.
Speaking of events with clinicians, today digital enables formats that were unimaginable only two years ago, offering multiple channels for each meeting and meeting the different needs of clinicians. Before the event (engagement), during (Peer to Peer relationship) and after (content follow up for those who could not attend the live event). For example, one of the most successful formats, borrowed from the experiences of foreign colleagues belonging to Network in Health is the Medical Standing Congress. This is a model for the dissemination of content offered at international congresses, thanks to the involvement of KOLs who, by attending such events, record each evening a short video commentary of the day's events, which are disseminated the following day by dedicated email to all targeted doctors. After a few mailings, it is possible to identify the clinicians most interested in the topic and propose to them a subsequent educational plan based on webinars held by KOLs. This model also makes it possible to continue to engage the target audience in the following months by 'atomising' the content through different media (videos, infographics, slide kits, articles). It is the 'congress 365 days a year' model, anticipated by Len Starnes more than ten years ago. My colleague Alberto Barlassina, in order to represent all the opportunities offered by the new formats, has created the concept of the "Web Symposium Clock", summarising in a series of dials, like a sort of congress clock, the steps to be followed and clarifying what are the "ingredients" for a perfect "hybrid" congress. A kind of check list...

Web Symposium Clock
In the digital pre-congress phase, one can support the promotion of the event by creating a much more intensive invitation process than in the past. In practice, effective reminder, customer care and platform access support initiatives can be put in place. In addition, questions can be taken, moderation can be managed, participants can be engaged with speakers, and initial materials can be prepared and disseminated. During the event, the possibility to have synchronised presentations, to be able to ask questions to the moderator, to manage the broadcast of the event is only part of what the new platforms allow. Today, then, it is also possible to have synchronous events with accreditation of CME training points, as the platforms allow participants to be monitored, moment by moment, and thus accredit points in relation to actual participation in the training event. But the real strength that can be deployed by proper design of remote-hybrid events is the set of post-meeting services. It is possible to take the material and make short marketing communications out of it, or it is possible to create a new remote course with CME value, which the physician can enjoy at his or her convenience. Finally, it is possible to disseminate the scientific material to all interested potential doctors, managing approvals and forwarding. We will then be able to know who has participated and who has stopped using the materials, and adjust accordingly with appropriate Marketing Automation. I don't want to dwell too much on execution, which I am also passionate about, but the opportunities offered by 'hybridisation' (!) are many and are all already validated. Let us use them.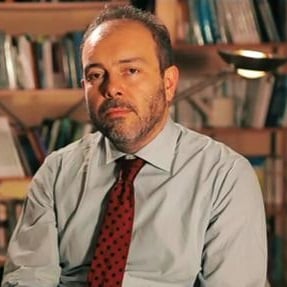 Salvatore Ruggiero nasce a Napoli nel 1964, si definisce un imprenditore seriale. Oggi a capo del gruppo Merqurio, di cui è stato anche fondatore. Sposato con Giuseppina, ha due figli e nel tempo libero, tra un'escursione e un'altra, tra un film ed un altro, è alla ricerca della ricetta dei biscotti perfetti.